Main content starts here, tab to start navigating
ONE OF A KIND EXPERIENCES
Make memories with these unique experiences and services offered at
LOUISE and Thaden Field!
Louise and Thaden Field are proud to offer the following services and experiences to NWA.
For inquiries or questions on

booking Events at Louise, follow this link . Submit a form to get started and GM Ann will reach out to you shortly!

For LOUISE BUBBLES and Thaden Field Charters keep scrolling!
Slide 1 of 7
Slide 2 of 7
Slide 3 of 7
Slide 4 of 7
Slide 5 of 7
Slide 6 of 7
Slide 7 of 7
Ropeswing in Bentonville
Click the links below to check out our sister stores- don't forget to check out their specials and exciting upcoming events!
Pressroom (currently offering Burger and Brew special on Thursdays!)
The Preachers Son (check out Undercroft, their bar down below. The Honey Collective plays every Wednesday Live, from 8pm-11pm!)
COOP Ramen (now partnering with RECORD to sell their home made ramen broths and oils during the Market at RECORD on Saturdays!)
Sunnys (featuring various 'sunroom' events- calendar online and updated monthly!)
Record Downtown (private and public events- so much to see and do!)
Blake St House (programming for wellness, music and more!)
LOUISE BUBBLES
LOUISE BUBBLES
ARE BACK!!!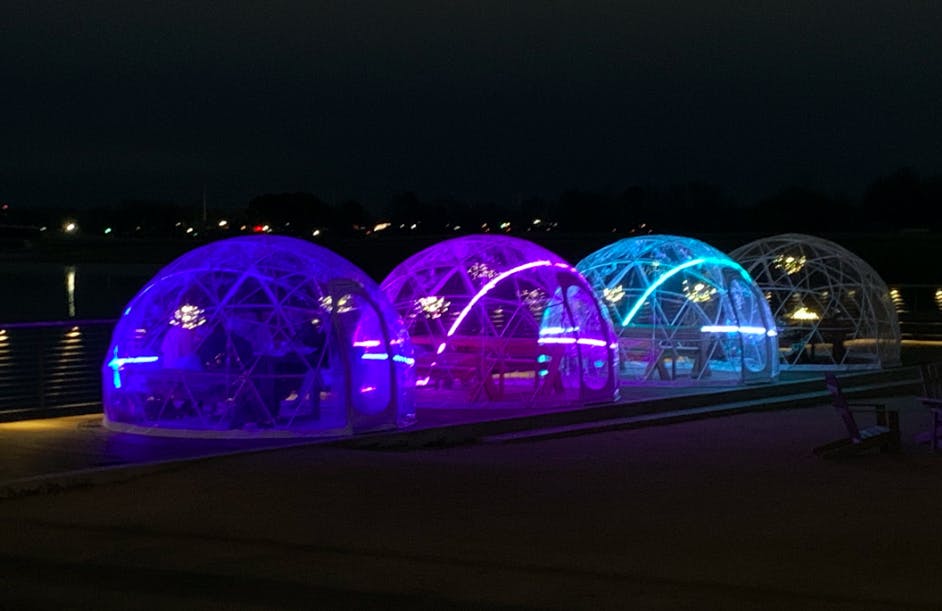 Ask and you shall receive!
Louise is bringing the "BUBBLE" experience back, now better than ever!
To offer more guests the opportunity for this unique experience, will be doing things a little bit different this year, INCLUDING TAKING WALK INs !!! Keep scrolling for details on reserving, walk in stays, pricing, availability and all that comes with a Louise Bubble Experience!
PRICING INFORMATION:
RESERVATION/BOOKING FEES
Our Bubbles require a reservation/booking fee in order to reserve your time. pricing for booking fees noted below are for the standard 1.5 hour time block. Additional time purchased will be charged at the appropriate rate for each additional 1/2 hour booked. the booking fee is NOT a deposit and will not be applied to the bill or returned. The booking fee is fully refundable if the reservation is cancelled 7+ days prior to the event date, otherwise the booking fee is NON refundable if cancelled less than 7 days prior to your reservation time, no exceptions. In the event that a cancellation is made, either with or without notice, less than 7 days prior to the reservation time, and the original bookee is unable to attend or provide guests to attend in their place, the card on file will be charged an additional $50 cancellation fee for lost revenue. Cancellation is assumed if guests do not check in for a reservation past 20 minutes of the scheduled start time, rescheduling may be done ONCE, with a minimum of 1 day prior to the reservation with a $50 rescheduling fee.
Reservation/Booking Fee Rates:
Tuesday-Friday 10am-3pm: $10/person
Tuesday - Thursday 3pm-8pm: $15/person
Friday 3pm-8pm, Saturday 9am-8pm, Sunday 9am-2pm: $25/person
PLEASE NOTE WHEN MAKING RESERVATIONS THAT ON FRIDAYS AND SATURDAYS OUR KITCHEN IS CLOSED FROM 3PM-4PM IN ORDER TO SET UP FOR DINNER SERVICE, WE DO NOT HAVE FOOD AVAILABLE AT THIS TIME.
REQUIRED MINIMUM SPEND
During your stay, you are required to spend a minimum of $30/guest on food and beverage (before tax and gratuity) for the standard 1.5 hour time block. If additional time is purchased, the minimum spend will be added at the rate of $10/guest for each 30 minute block added to the reservation. If the minimum is not met, a lump sum will be added to the bill to reach the required minimum for your party's stay. regardless of party size, final bill will include gratuity (25%) and tax. The required minimum food and beverage spend for the party will reflect the amount of guests present for the reservation during the reservation time.
BUBBLES POLICIES:
unaccounted for guests who arrive day of will be charged the booking fee directly on the final bill of the bubble they are joining, the minimum spend will also go up to the appropriate amount. If less guests arrive, the booking fee is forfeit for those seats. However the minimum spend required will reflect only the amount of guest to actually be present for the reservation.
In the event that no one arrives or calls to cancel a reservation, a $50 no show fee will be charged to the card on file for cancellation fee.
A maximum of 8 guests per bubble and a minimum of 2. NO EXCEPTIONS. any guests who arrive over the 8 person cap will be required to either (1) purchase an additional Bubble to accommodate the additional seats, if available or (2) the additional guests may choose to dine with our normal walk in, dining guests in our regular service areas, however they will be subject to our wait list status and are not guaranteed to be sat or served at the same time as the scheduled reservation time.
guests 1+ yrs and older are charged a booking fee, no exceptions.
required minimum spend of $30/person/standard 1.5 hour block applies to all guests 1+ years old. Guests are subject to provide proof of age of guests at Louise staff discretion.
during your stay you will have access to the Louise food and bar menus appropriate to the time you have booked. you will place all orders through your personal attendant(s).
booking/reservation fees and minimum spends are non negotiable and REQUIRED to be paid in full at the appropriate times, unless otherwise promoted or approved by Louise management- see pricing
due to high demand and the scheduling required to service a Bubble experience, your reservation window is SET. Late guests, with or without notice, forfeit the missed time of their reservation. Once a reservation time has started, guests have a 20 minute check in period. If the 20 minute window is missed to check in and guests have not contacted Louise management to inform of a later check in, the remaining reserved time will be forfeit as well, and subject to walk in bookings. While in your bubble, a timer will be set by the attendant. the timer will notify you 15 minutes prior to your reservation end time. Please use this time to prepare for departure. Reservation end times are a hard end time to allow the full 15 minute grace period for staff to clean and reset for the next reservation. Please be courteous of this policy!
"Bubble Package" availability are subject to restaurant operational obligations. Packages MUST be PRE-ORDERED and paid a minimum of 10 days prior to booked time through Louise Management. Please contact the store to inquire if any "Bubble Packages" are available for pre-order for your booked time. all packages are non refundable.
BUBBLE PACKAGES:
Louise Dining Journey- a unique chef curated meal. Set in four delicious courses: shareable, salad or soup, entree, dessert. This meal will be timed by the chef to ensure all courses are enjoyed thoroughly by the guests in the 1.5 hour Time block. Please be prepared to provide dietary restrictions and preferences. (starts at $75/person)
Small Bites- perfect to enjoy with our hand crafted cocktails! set of (3) different chef created shareables, family style, for you and your guests. please be prepared to provide dietary restrictions and preferences. (starts at $25/person)
Bubbly- celebrations are not the same with out the bubbly! Sold by the bottle, choose Prosecco or Champagne. Served with fresh berries and a unique chef prepared desert. (Starts at at $25/person)
Brunchin'- Bubbles are great for Brunch too! Choose Mimosa or Bloody Mary "bar". served with proper accompaniments. (starts at $15/person)
AMENITIES INCLUDED!:
space heater

LED lighting

throw pillows

blankets

blue tooth speaker

unique decor

access to LOUISE food menu and bar selections (see online to see what menus are available during your booked time)

personal attendant for service.
*please dress according to weather, jackets and additional blankets are welcome and recommended for your comfort

RESERVATION/BOOKING INFO:
reservations come with 1.5 hours of time, additional time can be purchased in 30 minute increments. 15 minutes prior to your reservation end time you will be notified by a timer that is set in your bubble, please adhere to the reservation end time and exit the bubble once the reservation time is up to avoid further charges and allow the team to reset and clean for the next reservation.
WALK INs ARE WELCOME!!!
bubbles may be rented by walk-in, this is subject to availability and staffing. The minimum spend outlined above still applies to walk in stays. Walk in booking fees are set at $15/person for a MAX of 1.5 hours service time. Walk ins are required to present a credit card to the attendant to hold on file until payment for the entire stay/bill is made. Walk in booking fees are added to the final bill. Gratuity at the same rate for normal reservations will be applied to all walk in bubble stays as well, regardless of party size.

AVAILABLE BOOKING HOURS

M: closed
T: 10am-8pm
W: 10am-8pm
T: 10am-8pm
F: 10am-8pm
S: 9am-8pm
S: 9am-2pm

RESERVATION SITE
The reservation system we use is Alleytrak (click the BOOK NOW button below to be redirected to booking site). The system will continually make updates based on the data you provide. As you make changes to the date, start and end time, guest size and room selection you will see notices and changes happen automatically as the system checks availability based on the information you are providing.

PAYMENT PROCESSING
Booking/reservation fees are taken at time of booking directly through the website and must be paid in order to complete reservation. for cancellations, rescheduling, or any other inquiries, please contact a manager at the store for assistance.
THADEN FIELD Private Charters and LOUISE 'FLY-IN' catering
CHARTERS AT
THADEN FIELD
ARE FINALY HERE!!!
Follow this link for more information and/or to book your private charter at THADEN FIELD.
Pilot and Charter guests.....LOUISE FLY-IN menu is now available for all of your travel needs!
Touching down for a quick pit stop? Readying a Thaden Field charter with fellow co-workers? LOUISE FLY-IN menu was created specifically for all passengers/pilots who are on the go. All items are packaged carefully and include all needed utensils and condiments.
pilots in a hurry? let the front desk know, and LOUISE will put priority on the order to ensure you have meal in hand before wheels need to go up!
FLY-IN MENU
Please place all orders through Thaden Field front desk. please be prepared to provide payment information. pick up at LOUISE bar by name, OR request front desk to deliver your order to your plane directly. ALL orders are made to go, no exceptions. Some items require extended notice. FLY-IN menu available to incoming/outgoing pilots and charter pilots/guests only. Menu available by email by request. physical menus also available at Thaden front desk and behind LOUISE bar.
We look forward to serving you!!!
VIEW FLY-IN MENU